Michael Jackson Printable Party Supplies
Inspired By The King Of Pop
Cool inspired By Michael Jackson printable party supplies themed decor for a musically sensational birthday celebration.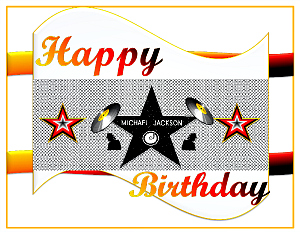 Cool inspired By Michael Jackson printable party supplies themed decor for a musically sensational birthday celebration. This theme is bright and colorful with stars, records, M.J.  silhouettes, microphones, & sparkly gloves sprinkled throughout.

Colors are blasted with black, red, yellow, and orange. Embellished with a cool black Hollywood walk of fame star. Choose this party pack to enjoy the feeling of having the king of pop infused in your next or up and coming birthday party.
Looks great printed on thick matte photo paper & Thick card stock paper. Save your order onto your computer or digital storage device. Orders Are Available For You To Download Instantly Via Link. Orders Are Also Sent To Your Valid Email Address After Purchasing See How It Works. To view your order print, download, or personalize, You will need to have the newest & latest version of the Free Adobe PDF Reader program installed on your computer.
See instructions on how you can personalize & add digital text onto your party invitations using the sign tool .  Printables are designed to be printed onto 8.5x11 inch paper. Thick card stock paper works well for a sturdy hold & looks great. We usually print on 110 lb thick quality paper. View our List of FAQ for information. There is unlimited printing & printables can be used year after year or as long as you maintain & keep your file stored safely.
---
Michael Jackson Party Supplies Printable Pack
---
Michael Jackson Printable Party Supplies Package

Non-Editable PDF File Includes:

14 5x8 Banner flag letters that spell ( Michael Jackson) 

5x8 Bunting Decor Flags

2 designs

13 - 4x4 inch banner letters that spell ( Birthday Party)

4x4 inch banner decoration

3 designs

2x2 inch cupcake toppers 4 designs

Napkin Rings 4 designs

4x3.5 centerfold invitations

2 designs 


8.5x11 inch Party Signs

2 designs

Standard sized cone party hats

2 designs


Mini bottle topper hats

2 designs

Candy bar wrapper party favors

2 designs 


Food & blank place cards

2 designs

4x4 inch Party labels for balloons & party decor

3 designs

Water bottle labels

3 designs 

Full instructions included -

Enjoy Unlimited Party Printing

- Print as many as you need to style your party. See Terms Of Use


buy

Single Items for Instant Download
Michael Jackson Birthday Banner

5.x8 letters that read (Micheal Jackson). 4 Inch letters that say (birthday party). 3 Bonus 4 inch signs.

buy

Michael Jackson Party Hats

Party hats come with 2 designs in standard size.  Also includes 2 designs of bonus mini hats to use as bottle toppers or party decor.

buy
---
Michael Jackson Centerfold Invitations

Write in centerfold invites & 2 small signs to be placed on the front of folded invites.  Hand write in your details or add them digitally.

buy

Michael Jackson Candy Wrapper Favors


Printable party favor candy bar wrappers in two designs. All you need is your favorite type of Hershey's candy bars, scissors, & glue. 


buy
---
Michael Jackson Personal Sized Drink Labels

3 bottle label designs per printed page. To be trimmed and wrapped around personal sized bottled drinks & taped or glued to seal the back flaps together around bottles.

buy

Michael Jackson Party Ideas

Hang balloons & streamers around party areas & Use matching colored tableware to the printables you are using.

Lay down a red carpet at the entrance to the party for guests to walk on for fun

Play name that tune, Best Moon walk, Trivia Games, Who can dress up as MJ the fastest & say who's bad afterwards

Play Michael Jackson dance game on the Wii  or other game consoles

Sing Karaoke to MJ songs


Hire a Michael Jackson Impersonator to liven up the party

Hire a DJ to play all of MJ's hits

Decorate with MJ posters & music notes

Get a baker or bakery to make an MJ cake , cupcakes, or cookies to match your colors & theme.

---
More Fun Party Printables You Might Like
This This Party Page A Like?