Ice Cream Soda Shoppe Printable Party Supplies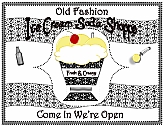 Vintage damask ice cream soda shoppe printable party supplies. This theme is flourished with a variety of colors. Old fashion soda fountain cups, mugs, and ice cream cones are embedded within. Perfect for a party on a hot summer day. Fresh & creamy ice cream soda is a refreshing treat. Create your party using a blend of tasty goodness with a unique style and posh flare.
All Downloadable Orders Are Given To You Instantly Via File Link. Orders Are Also Sent To Your Email Address Instantly After Purchases Along with Instructions & Terms of Use
These party supplies are digital & come in PDF format for easy printing. All of our printables are made for you to print out at home, or your office printer.  Save files on your computer or flash drive for safe keeping. Thick card stock paper looks best when printing. After placing orders & downloading, You will have to open your files in the newest version of Free Adobe PDF Reader for viewing, printing, or adding digital text onto printables. If you'd like to know more about adding digital text onto printables View Our FAQ List. You can also Contact Us for any other questions you have in mind.

---
Ice Cream Soda Shoppe Party Supply Printables

---
Damask Ice Cream Soda Shoppe Printable Supplies Package

Non-Editable PDF File Includes: 27 Pages + Instructions


8 Banner letters that spell the words ( Ice Cream)

10 Banner letters that spell the words (Soda Shoppe)

13 Banner letters that spell the words (Birthday Party)
5x7 Flat Invitations 2 Designs 

Topping place cards 1 Design
 Napkin Rings 8 designs
2 Inch Cupcake Toppers / Tags 11 Designs

Bottle Labels 10 designs

Circle decorations & Cutouts for balloons and decor 3 Designs

Ice Cream Cone Cutouts



 8x11 Party signs 3 designs

Headband party hat

1 Design

Vintage ice cream float cup cutout & small ice cream float rectangle cutouts

Full instructions included - Enjoy Unlimited Party Printing - Print as many as you need to style your party.

Made for Personal Use Only for Decoration & Parties No Commercial Use

   Order Instant Download Printable Package   

buy
---
Single Item Shopping Windows
Ice Cream Soda Invitations


5x7 Printable ice cream soda shoppe invites. 2 Designs to let everyone know about your ice cream soda themed party. Print as many as you need to fill your guest list.

buy

Ice Cream Soda Favor Box


Vintage damask party favor box is 4.5 x 3 inches. Stuff the box with fun party goodies as you see fit for your thank you token to your party guests.


buy
Ice Cream Soda Party Hat


Ice cream soda themed printable headband party hats for party guest and party helpers.

buy
---
Return To Girls Printable Birthday Party Supplies Page

Leave Ice Cream Soda Shoppe Printable Party Supplies | Return To Printable Party Home